Raico Rosenberg was born and raised in Tenerife. Exploring the natural environment of the island from an early age helped him to create a unique bond with the amazing landscapes of Tenerife. Raico images are technically excellent and artistically inspiring; they perfectly encapsulate his distinctive vision and profound connection to nature. He pushes the cameras limits with advanced techniques and keeps the post processing to the minimum. His exceptional skills have been noticed by international companies and he is at present sponsored by a number of photographic equipment manufacturers. This enables him to maintain a high level of quality of his landscape and nature photographs. Since 2012 Raico hosts photography workshops and seminars. He has also won awards at international photo contests, amongst them, the 1st place Glanzlichter in 2013.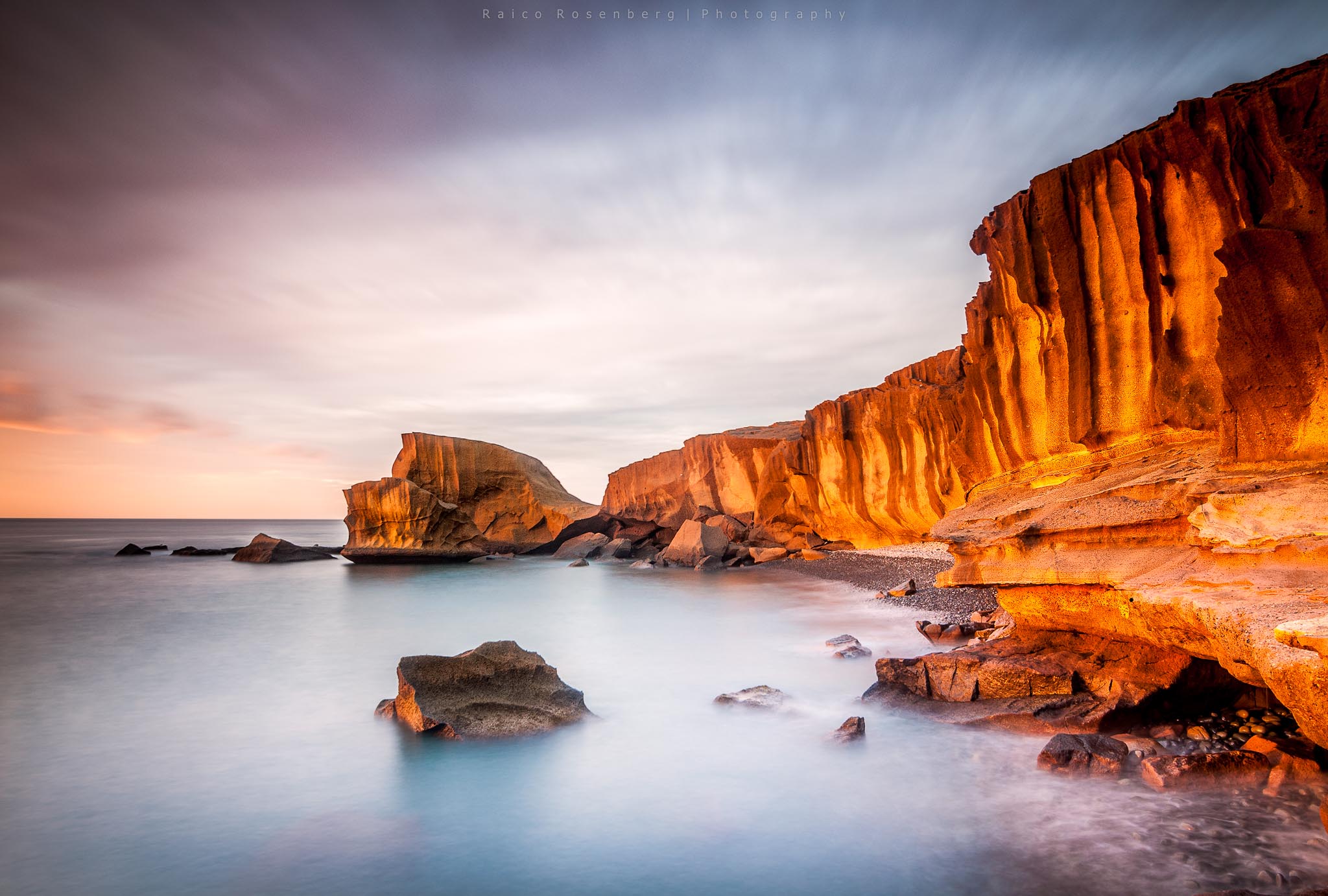 1.What was your path to become a photographer?
I had a considerable fascination for photography as a kid but was shunted way from it by my parents as it was deemed an expensive hobby at the time. Growing up on a small Island like Tenerife also had its disadvantages, there was no real access to photography clubs or courses and as such photography became a mere speck on the horizon, something that seemed somewhat only available to a few privileged and lucky immortals at my young age.
In 2000 I was at college in the UK, on my way to University and actually wanted to study photography but the brainwashing from my peers to pursue a "proper job" and to take advantage of those 5 languages i can speak, combined with my naive thinking made me choose a BA in IT with Languages instead. Also, at the time digital photography was starting to roll in and I ignorantly though to myself "why learn analogue when digital is round the corner" -i still cringe at that ignorant thought.
It wasn't till 2008 that digital was affordable and i picked up my first camera, a Nikon D80. The learning curve was very steep, there was nobody to teach me and even during that time as information about digital landscape photography was still relatively spartan on the internet in comparison to nowadays.
I naturally took an interest in photographing Landscapes as growing up my parents didn't allow us to have a TV in the household, something I really despised as a child because during that period it made me feel different to everyone else but looking back it was a godsend... thanks to that I had an awesome childhood in the way that i spent most of my time outdoors instead of sitting at home wasting my time glued to the TV for example. Tenerife is the most varied of the canary islands and it was an awe-inspiring natural playground that inspires me even till today.
It was in 2013 that my work got noticed internationally and got my first sponsorship with Lucroit filter Holders and formatt-Hitech Filters. In photokina 2016 working with HitechI was approached by 3 legged thing, a great tripod manufacturer from the UK to become part of their Pro-team too. Since 2014 i hold workshops on the island.
2. Do you prefer to photograph close to home or do you find faraway places more inspiring? Are there any special places that inspire you the most to create new work?
The advantage to Tenerife is that being a relatively small island, everything is max. 1,5hrs drive away and many places are just around the corner from where I live. Although I get bored extremely quickly there is so much variety. On the other hand, there are some locations that I have visited so many times that conditions have to be exceptionally good for me to visit them. On the other hand its also a good challenge to shoot in your neighbourhood as its so easy to oversee things as a local. Regarding inspiration, its the sea where I feel it most as I grew up with it. I spent my younger years Surfing, spear-fishing, diving etc. so I know the ocean off by heart, how it moves, behaves etc. Its a special bond.
I certainly have been inspired by far-away places, most of all Iceland as the landscape has so much in common to Tenerife. I haven't visited it yet, apart from it being very expensive for me, but mostly because in my opinion it is so overshot and becoming extremely crowded in places. That mostly puts me off quite a bit. I am an outdoorsy type of person and like to explore on my own. I guess I've been spoilt by Tenerife as most places I shoot at, I'm on my own.

3. Are you a meticulous pre-planer or do you prefer creating images spontaneously? Do you revisit your favourite places many times to achieve the required result? Can you tell us more about your method of working?
Knowing your location is paramount but you've got to be careful not to over-plan. Let me explain why. I used to get frustrated and worried that I was mostly incapable to plan properly as I have ADHD (attention deficit disorder) so organisation was not my strong side. Over the years I realised that this wasn't always a bad thing. Most of my favourite images have all come out from completely unplanned sessions. I feel that these images come out because there is no preconception of what they should look like, no worries what other people say for example and this freedom from inhibition helps things come from deeper within ones creative treasure chest. I firmly believe that in every photo we take, there is a hidden layer that speaks about ourselves. Just like body language, we don't notice immediately but subconsciously we know its there and are expressing it.
My favourite quote is by Ansel adams: "You don't make a photograph just with a camera. You bring to the act of photography all the pictures you have seen, the books you have read, the music you have heard, the people you have loved."
4. Terra Quantum displays themes and series portfolios; do you like working to the project/series/theme or find creating individual images more rewarding?
I would love to create a project but again, my stint of organisational skills and more importantly lack of funding is a major issue. Tenerife may be a beautiful place but living here also comes at a cost. Wages are terrible compared to northern Europe and there is literally zero appreciation for Art. For example, the culture of "support your local artist" is completely unknown here. In other countries you can at least make some sort of break even in your investment. There are almost no art fairs on the islands and artwork is very rarely purchased, often at ridiculously low prices.
Quantum Terra on the other hand offers an admirable opportunity to display high quality artwork to a huge audience.
5. Can you tell us a bit more about your chosen photograph – what is the story behind them, when/why/how they were created?
The first photo, a black and white shot that looks like a tree isin fact a local tabaiba plant (Euphorbia Balsamifera). Its one of my favourite images of all time, not just because I think it looks great but because its so important to me for a myriad of reasons. I actually shot this in late 2008 with my 10 megapixel Nikon D80, the year i started with a DSLR.
To me this shot highlights so many factors that are important in landscape photography… I had just started out and was devoid of any preconception of how things should be done, free of rules, no worries of the outcome. I just went out to shoot with my camera without a big plan, nor big expectations. I was worried about the technicalities but the fiery passion in my veins overran that stunt. I simply followed my instincts and went with what inspired me there and then. The plant at the time simply attracted my attention and I went with the flow. I didn't look at the back of camera and think "yes, this is exactly what I wanted" or that it was perhaps an ideal black and white shot. I went home and at some point imported the shot in lightroom 1.0, tinkered with it and again, no pressures. During this whole time from start to finish, unbeknown to myself, I had let my subconscious guide me. My body simply did the technical part, set up the camera, focus etc.. this shot came from deep within and recalling the shoot i remember vividly seeing that plant, standing out from the rest with its roots bursting out from the ground and its gnarly branches reaching out into the heavens in a majestic way. I think the shot represents this quite well. It was perhaps my most important lesson I learnt in landscape photography. Its a constant reminder to follow your heart. I had found a source of meditation.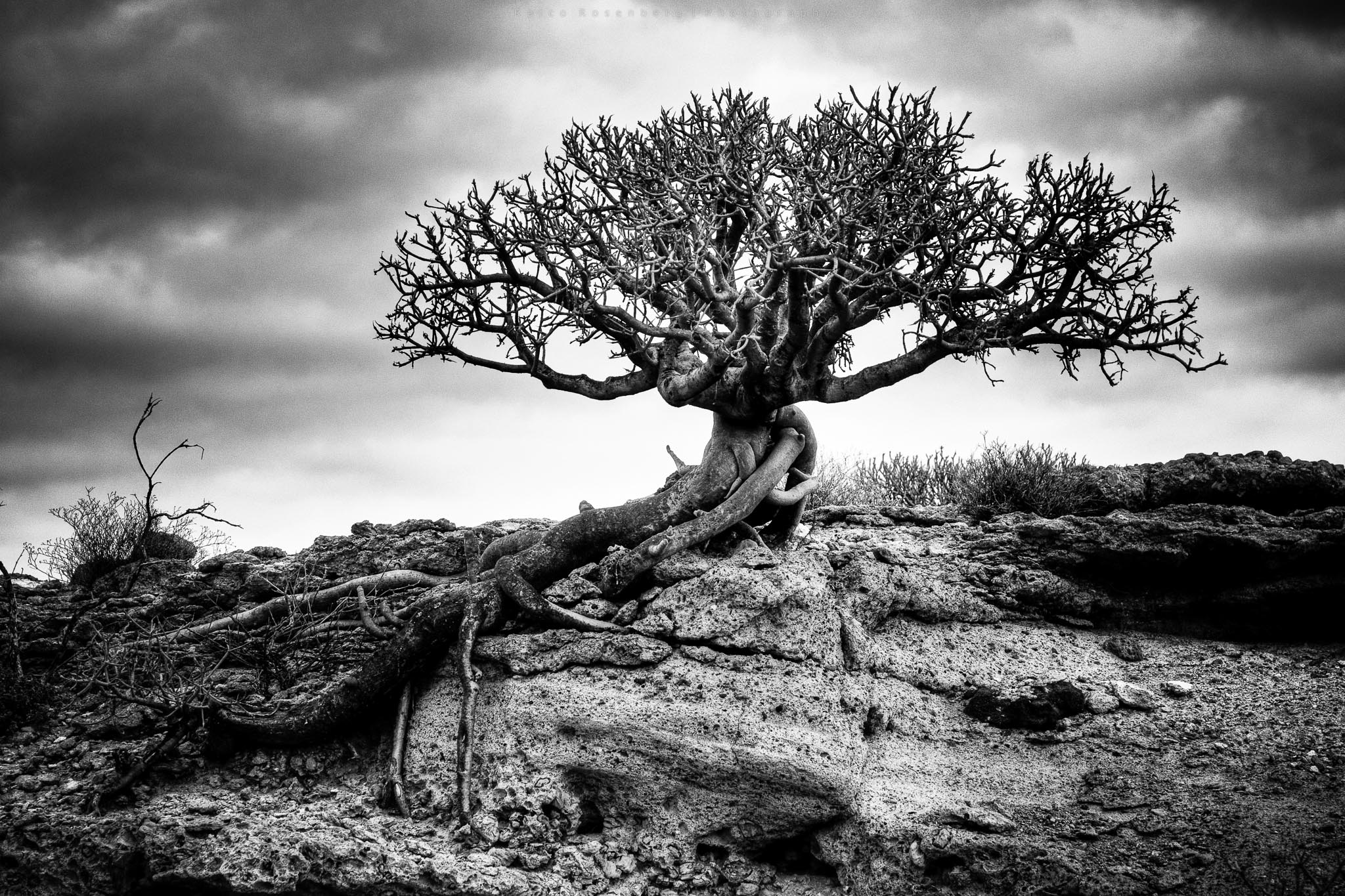 6. Colour, b&w or both? How do you decide about the elimination or inclusion of colour and why. When do you decide about it - in the field or during the post processing?
Years ago I would just shoot in colour and every so often convert to black an white, being more obsessed how everyone else was shooting to display how the scene looked in its colourful glory.
In the last year I've really started to gravitate towards black and white, a more artistic approach in my view. I often shoot in black and white with custom profiles, this despite the fact that the RAW file is actually in colour. I thoroughly enjoy getting things right in camera as it becomes challenging for me.

7. Do you find printing your images yourself as an integral part of image creation or do you use professional labs? How important is the choice of paper for you?
Again, another thing I´d love to do on my own but unfortunately high costs and virtually zero demand for printed artwork on the island pretty much killed most of this off. In the first few years i invested in a half decent Epson printer but the ultra-steep learning curve and extortionate costs put this idea at rest. A common problem was printer nozzles drying out because of the warmer and dryer weather here.
There is only 1 lab on the island I work with to produce satisfying quality. Again, not an easy task as you can't just send the pictures off to get printed, you really have to be onsite checking every step, often repeating the print to produce satisfactory results.
To me paper choice is crucial, not only the type of paper but also the quality. For example a top chef wouldn't serve his exquisite dishes on some cheap and tatty plates. My preference is archival cotton paper which 99% of the time is canson due to availability on the island.
8. Do you think that social media is killing photography or playing an important role in promoting your work? How involved are you in your online presence?
Social media has essentially exploded the reach beyond boundaries for photography in comparison to as little as a decade ago. This has had the added bonus that learning potential has skyrocketed for the masses. For myself, with the restraints of being on a small island in the middle of the atlantic, it really helps to get the word out and sources of inspiration multiply exponentially.
On the other hand I'm not the most sociable person in the world and the fact that it all happens in a distant world of cyberspace doesn't really help me. Due to my ADHD, my mind drifts a lot all over the place and as such I prefer the real world where I can focus best. Its mostly because of these constant distractions that my level of interaction on social media (which is so essential nowadays) is mediocre at best.
On a positive note, I guess my photography and that of many others wouldn't be where it is today and so like the supermarket chain Tesco in the UK, "every little helps" lol!
9. Do you have any plans for exhibitions, books or any interesting projects coming? Can you tell us a bit more about your artistic plans for the next couple of years?
One project I have is to thoroughly explore photographically all 7 of the canary islands. Over the years I have felt that most representative imagery I have seen of the islands had something missing and I want to make it a mission to capture this. I know most of them already so that helps a lot.
Another project is to write a book, there isn't much of a market as the island is small and most people visiting want postcard style shots; pictures of the beach, the resort etc. and my work is more of the artistic variety. I´d like it to be a physical book because otherwise the imagery would lose a lot of aesthetic value in my opinion. Nowadays with the predominance of the digital world it makes it even more difficult. A few local publishers I have spoken to have been very impressed by my work but skeptical of the reach due to the niche market.
An exhibition overseas would be a dream come true but again funding is an issue. Most times I've heard is that due to the economical crisis that funds for artists have long gone dry or abandoned. I´m still searching for opportunities, any suggestions always welcome! :-)
10. We are living on the most beautiful planet, yet it is over-burdened and over-polluted. As photography is an influential medium, do you use the power of your photographs to promote our Earth appreciation and environmental awareness? Any thoughts how photographers in general can become more involved in this important matter?
Absolutely, photography is a fantastic medium. I believe my images of Tenerife show how diverse the island is and at the same time how vulnerable the natural environment is. A photograph is a capture of a moment in time, lost for ever. By showing the natural beauty in all its glory we can highlight the precious natural landscapes we have left on this amazing planet!